NFT Scams: How to Avoid NFT Scams?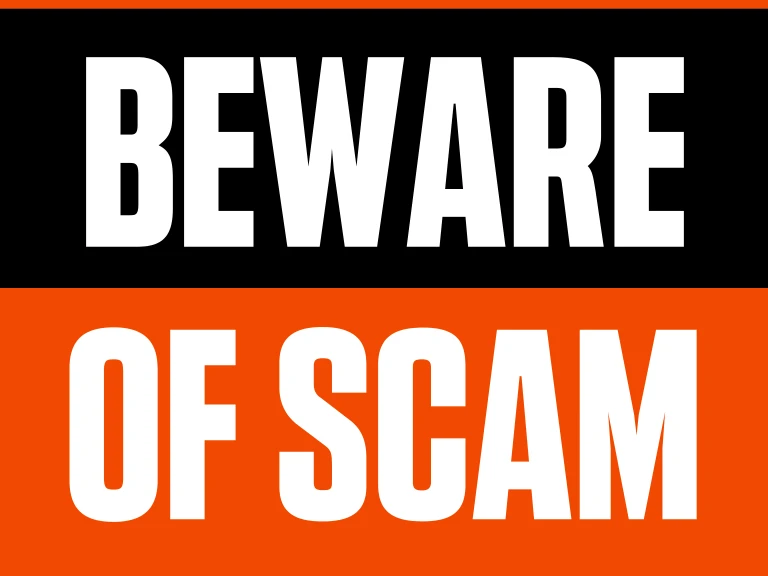 In the ever evolving world of web3, NFT Scams have become an unignorable part. Hence, proper awareness and caution towards your every action is a must. In this article we will be discussing NFT Frauds/scams and understand how to avoid such scams, briefly.
Basically, there are many ways through which many scams happen. Most of which will happen through Phishing scams. Other ways include impersonation, counterfeit, Fake Airdrops and other such ways. Therefore, avoiding them will not be easy. Especially, people get scammed for 'High reward – low risk', which is exactly like Web2.
Types of NFT Scams:
Some of the most common ways NFT Scams can happen are as follows.
Counterfeit or Duplicate NFT Scams.

Fake NFT Stores.

Phishing Scams.

NFT Airdrop or Giveaway Scams.

NFT Scam through Social Media Impersonation.
Let us learn basic information about these Types of NFT Scams
Counterfeit NFT Scams:
A common form of NFT scam is the replication of original NFTs. Here, con artists copy an artist's creative piece. They list them as the original collection and sell it at a price convenient for them to lure the collectors towards the duplicate art.
This is the most common NFT Scam. Basically, scammers list the arts of well known artists without their permission. It is highly common in the big marketplaces.
Prasad Bhat, a well known artist from India recently revealed that one of his art was listed on Opensea without his knowledge. Likewise, everyday fraudsters scam people with duplicate NFT arts of well known artists.
Fake NFT Stores:
For this kind of NFT fraud, highly skilled scammers develop copies of real markets. They replicate well known market places. The designs will match the website's original layouts. The similarity is intended to mislead buyers about the original page.
Even a seasoned NFT buyer can be duped by these websites, which often seem nearly identical to the originals. Usually, they lead the buyers into spending a significant amount of money on a phony work of art that has no actual value.
Phishing Scams:
Phishing is a common tactic even though it is an old one. This kind of NFT fraud involves calls, messages, E-Mails and marketing on websites that request customer's private wallet keys or 12-word authentication keyphrases.
Scammers can wipe the digital wallet of any NFT collections or cryptocurrencies once they have access to this private information. Therefore, before entering any spam link or sharing your personal information with strangers you must be aware about these kinds of NFT Scams.
Not long ago, one of the most famous Phishing Scams happened with MetaMask Digital Wallets. MetaMask took Twitter to share the details about this Phishing Scam.
NFT Airdrop or Giveaway Scams:
NFT Airdrop Scams are one of the most common Scams out there in the Web3 world. In this Scam, bogus NFT social media profiles conduct a fake giveaway and convince users that they have won a valuable NFT.
Typically, the promotions often give away a free NFT in exchange for sharing the information with friends or signing up on their websites. However, the promotion will be done only to gain access to the person's digital wallet and take away everything from the wallet.
Social Media Impersonation NFT Scams:
Scammers frequently create bogus twitter pages that substantially replicate real NFT accounts by copying well-known NFT profiles. To persuade individuals to purchase fraudulent NFTs, internet thieves construct social media profiles. They use social media to make their phony websites appear trustworthy.
Generally, they Create almost similar social media pages and try to convince people to buy Fake NFTs. It is one of the most used cyber fraud techniques to scam people for money for a long time.
How to Avoid NFT Scams?
Don't share the Keydata.

Do your own research.

Do not click on suspicious links.

Make sure to review the transaction history.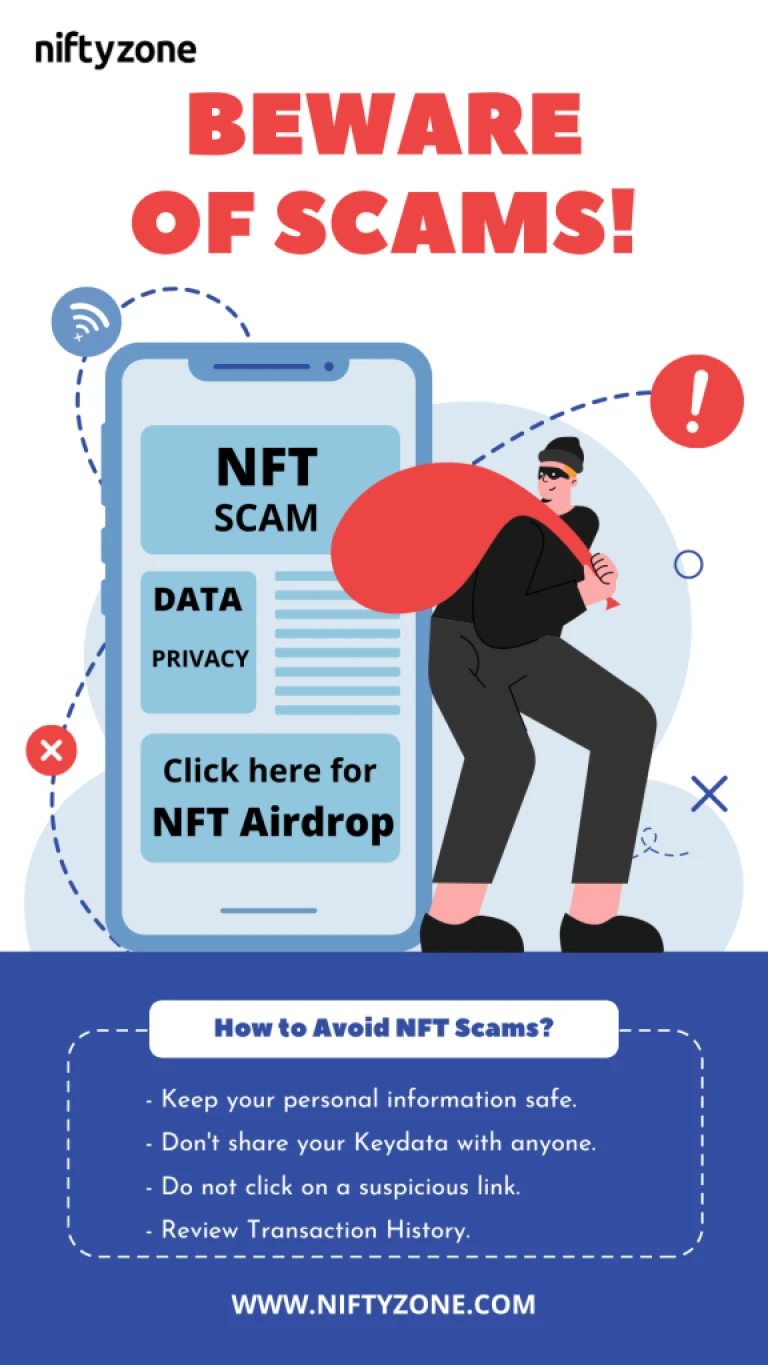 These are the basic key things to make sure you do before purchasing any NFT through any NFT marketplace.
Do not Share the Keydata:
Never reveal your crypto wallet details. Both key-phrases and recovery keys must be kept private and there is no such reason for you to share it with others. Especially, sharing it with the unknown person must be avoided by any means. Also, always create a strong password.
Additionally, enabling 2 Factor Authentication is one more way by which you can make sure you have a better security for your digital wallets.
Do your Own Research:
Research is the most basic procedure before you buy anything. Even if you are buying a mobile phone or a cosmetic, Research is a must.
Likewise, before you purchase NFT from any place make sure to do research on;
Do research about NFT Artists you're going to buy from.

Research on NFT marketplace.

Check out the Seller's Social Media page.

Checkout his other listings.
Do not Click on Suspicious Links:
Even if a link appears to connect to a real website, it could still be fake. Always visit the website directly instead of clicking on any links. Some suspicious links can also lead to installation of malicious software, by which your data might get compromised. Additionally, softwares are programmed to steal your personal data such as passwords and other private information.
Make sure to Review Transaction History:
For every NFT there will be a transaction history attached to it. It gives you the data about the NFT and its owner. This data can be used to know about NFT's authenticity and its correct price range. If you review the transaction history properly, you can avoid most of the Fake NFT Scams. In case you don't know how to review the Transaction History, It is recommended to consult one of your friends whom you can trust with this.
How to Safeguard NFT?
The best thing to do after buying an NFT is to move it to a hardware cryptocurrency wallet and store it there safely. Because, it is quite difficult to steal it from a Hardware Crypto wallet. You can use recently released one of its kind UKISS Hugware to store your NFTs securely.
Final Thoughts:
Without a thought Scams and deceptions are the unwelcomed part of this world. Such scams must also be avoided in the NFT world. Thus, it is important to be aware of such frauds and know how to avoid them. Finally, make sure you follow the above key points and avoid most of these scams by root.
Read our article on Top Selling NFTs by Indian Artists.
Also, follow us on Twitter to participate in NFT activities.