Tiffany NFT : What is NFTiff?
Tiffany NFT : What is NFTiff?
On 5th August, Tiffany & Co. opened the sale of their 250 Tiffany NFT known as NFTiff. They sold out very quickly, at a price of 30ETH (~ $50,000). Tiffany NFTs are exclusively available only for 250 CryptoPunk NFT holders. A 18K gold chain with five pave diamonds on the clasp will dangle the pendant, which will have a minimum of 30 diamonds or gemstones.
What is NFTiff or Tiffany NFT?
Tiffany and Co. explained NFTiff to their twitter community in a simple way
"NFTiff couldn't be easier. Purchase your NFT through the NFTiff gateway, choose your CryptoPunk and Tiffany artisans will transform it into a bespoke pendant".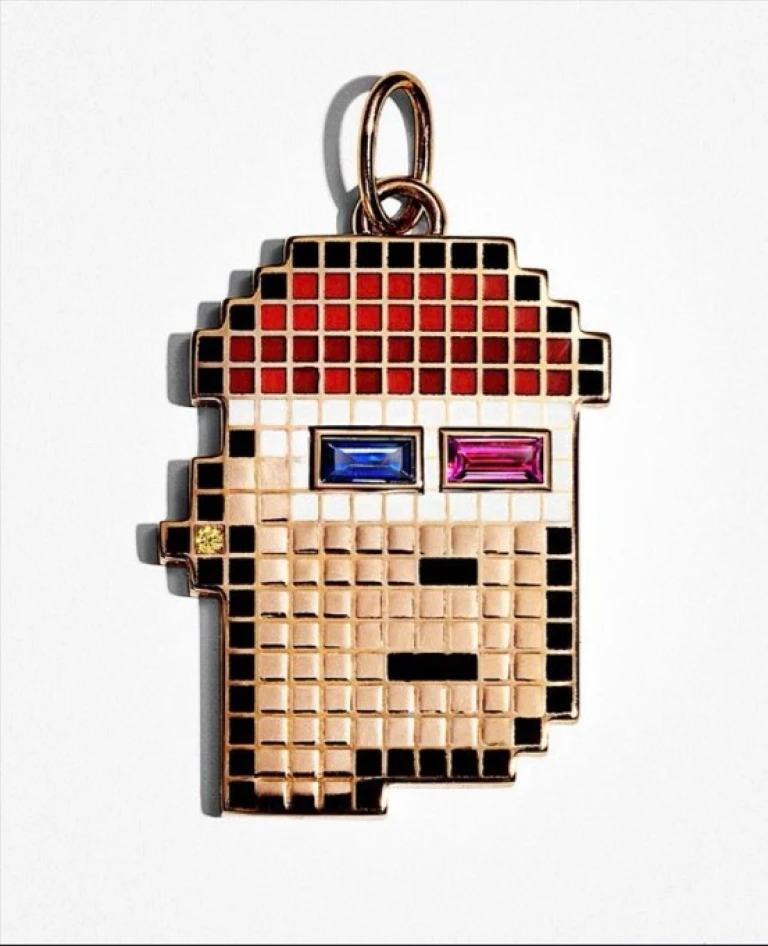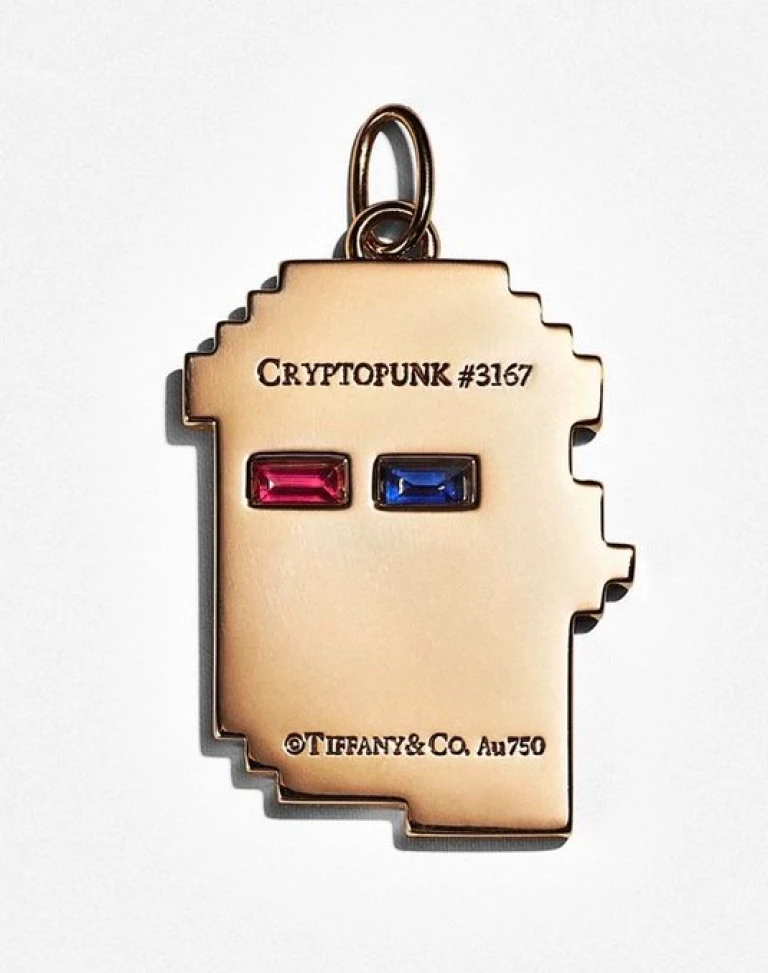 Tiffany NFT or NFTiff is a collection of 250 digital passes that includes a physical Diamond-decorated Pendant with the design of owner's pixelated CryptoPunk NFT on it. Each pendant will be crafted from 18-karat rose or yellow gold. The owner of a digital pass can mint and redeem it after making a purchase.
The size of each pendant will vary depending upon the NFTs. But, approximately they will be of 30mm length and 20-30mm width.
Different diamonds will be used depending on the attributes. The carat weight of each stone will change.
The pendant will come along with an 18K chain. The pendant will hang on a chain made of rectangular links in 18K gold that can be adjusted to be between 18″ and 22″ long. These links were designed to resemble square pixels.
Five pave diamonds are used as accents on the pendant's bail (connective device to pendant).
Tiffany & Co. artisans will create the pendant, which is inspired by the CryptoPunk owner's Punk NFT. It is said that the Pendant will have at least 30 diamonds or gemstones on it. It will cost 30 ETH to own one of these NFTiffs, which is around $50,000. The clients cannot customize their pendant.
Tiffany NFT / NFTiff sales :
The sale of Tiffany's NFTiffs are available only for selected 250 CryptoPunk holders. The pre-sale of NFTiff began on August 3rd.The sale of NFTiffs started on 5th August at 10 AM EST. Within a few hours the NFTiffs were sold out. Only selected individuals could participate in the sale. The Tiffany NFTs were sold in the form of digital passes to each interested buyer. Each person eligible to purchase the NFTiffs could only buy a maximum of 3 NFTiffs.
The price of 30 ETH $50K may seem like a high price. But, it is important to consider that one of the CryptoPunk NFT costs a minimum of 74 ETH which is around $125K at current Ethereum rate. So, considering the owners of CryptoPunks, It is an impressive pricing move from Tiffany and Co.
As per reports, there is no direct collaboration of CryptoPunk or its parent company 'Lavro Labs' and the owners of CryptoPunk NFTs made the NFTiffs possible.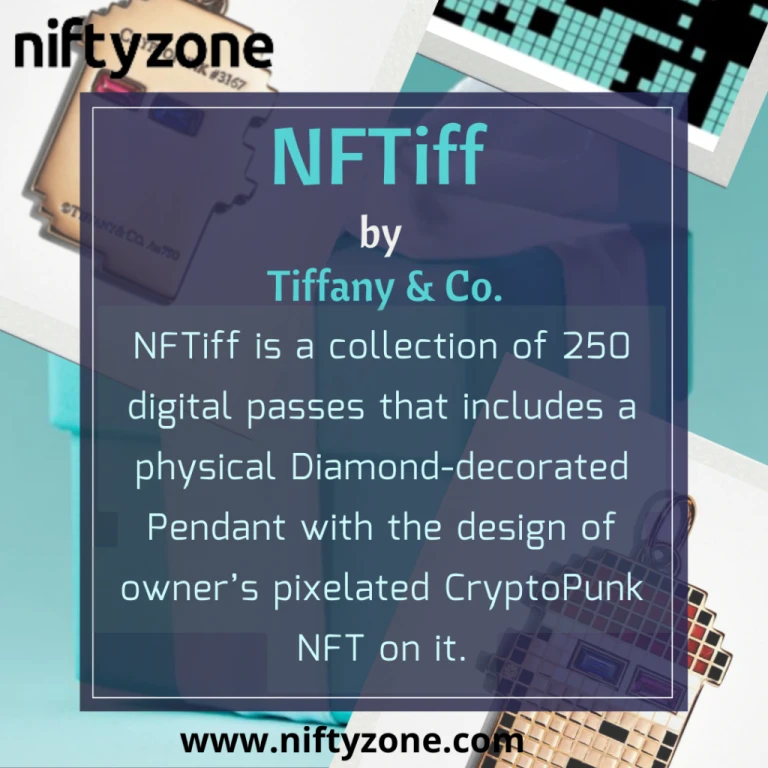 What is CryptoPunk?
The CryptoPunks are algorithmically created 24×24 pixel art images. The majority are punky-looking males and females, but there are also some uncommon individuals like apes, zombies, and even the rare alien. Each punk gets a profile page that details their characteristics and ownership or sale status.
Who is The Maker of NFTiff?
NFTiffs are sold by Tiffany and Co., who are popular throughout the world for their Innovative jewelry design and skilled production. With NFTiffs they have made the first move towards the Web3 community. Tiffany & Co. has shown the whole world an innovative way to apply Web3 into the real world by breaking the barrier between digital and real world.
Final thoughts on Tiffany NFT :
Every event like this shows the world that there is no limit for the Web3 world. Strategies like these ignites future development by other companies, which by just the thought excites every web3 lover. It is evident that such a strategy will spread like a wildfire. It is hoped to bring more such 'Digital Passes' where people can buy fashion items with their favorite NFT design on it.
Also read our article on Lady Ape NFT Collection.
Also visit Tiffany FAQ for further details.