Satoshi Master of Disguise: Comic NFTs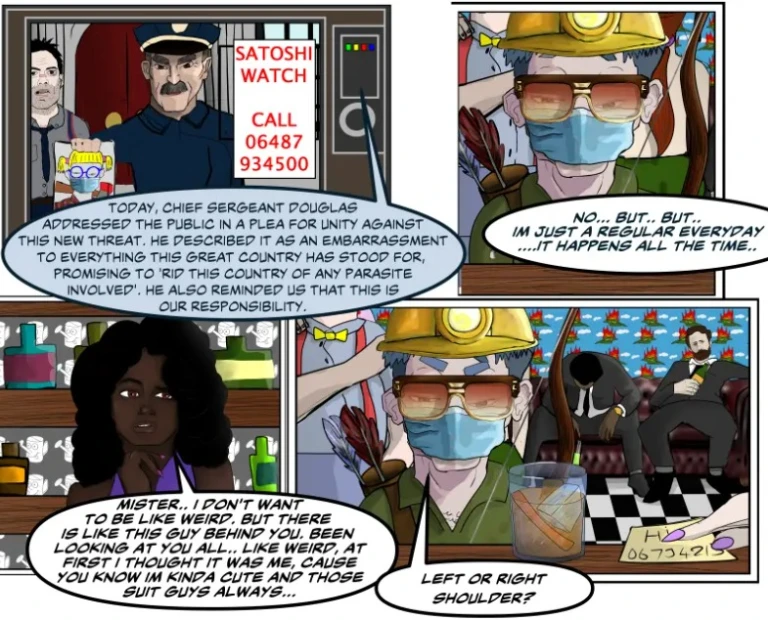 Satoshi Master of Disguise: Comic NFTs (SMOD) are Released on 14th July 2022. Before this date NFTs were used as digital art or employed as in-game goods. However, with the release of Satoshi – Man of Disguise a new chapter has started in the history of NFTs. For the 1st time, the creators have combined NFTs with the comics. The owners of the NFTs now can mint, publish, and distribute their own comics digitally as well as physically. Blockchain Comics Portal and Immutable X are used to generate these. 

What is Satoshi Master of disguise NFTs?
"Satoshi – Master of Disguise" is the first NFT comic book series where the story varies depending on your NFT's features. SMOD NFTs are produced at random from 185 potential traits on 6 separate layers. Each one of the NFT will have their own story depending upon its different characteristics. Characteristics include- Sky-color, Location, Head, Body, Mouth and eyes.
Each of the 10,000 SMOD Avatars will create their own original comic book series by using Immutable X (IMX) and Exclusive comic book series. SMOD promises to give each SMOD holder control over distribution, minting, and publishing rights.
The creators of Satoshi NFTs :
Satoshi – Master of Disguise is the inaugural project of Blockchain comics. Blockchain comics are created to reflect the story of situations of current times. The team of Blockchain Comics involves a team of three people.
Digital Del Boy : He is the project manager of Blockchain comics. The comic in the roadmap of SMOD describes him as "He lives and breathes NFTs".

Paul Paul : SMOD is the creation of Paul Paul. He is the artist and writer who created the Satoshi – Man of disguise. Whole concept of the SMOD is created and brought into life by him.

Arson Hacker : He is the guy behind coding and the person responsible for bringing the Satoshi NFTs to life.
Rarity of Satoshi Master of Disguise comic NFTs:
Every Satoshi – Master of Disguise NFT will fall into one of the five rarity levels. The features of your SMOD will define how rare your NFT is. Your SMOD will be the hero of your very own unique comic series. It has over 15,000 different combinations.

Levels of Rarities are,
Undercover

: 35% of all SMOD NFTs.
Mysterious: 25% of all SMOD NFTs.
Incognito : 20% of all SMOD NFTs.
Nameless

:15% of all SMOD NFTs.

Ghost: 5% of all SMOD NFTs.
The brand also revealed that in future, familiar NFT avatars will interact with each other.
Multi-Avatar Interactive comics :
Satoshi is just the beginning of Blockchain comics. The project is designed to be sustained for a long-term. Following the first installment of SMOD there will be an upgrade, "Blockchain Comics Token". This token will allow a variety of familiar faces in crypto faces to appear in future comic series.
The characters can interact via the blockchain comics portal. It uses the same multilayer minting technology to produce even more limited comic editions.
What is SMOD Utility?
There are a few SMOD utilities. The comic book series is one of the most important utility. With your SMOD NFT, you can access a truly unique comic book series. The five levels of rarity will be applied to every element of your story, resulting in unique artwork, dialogue, and other special characteristics.
Community Vote :
Satoshi – Master of disguise creators believe that Community is the "backbone" of any NFT project that succeeds. Every SMOD owner will be on the frontier of an NFT revolution. It is necessary to specify parameters within the Blockchain Comics platform. The norms and regulations of an OG utility hub will be decided by the SMOD NFT owners.
What is Blockchain Comics?
Blockchain Comics is the new era of NFT in the NFT space. Block chain comics enable holders to own their own unique comic series through "Decentralized Publishing". Also, the holders can publish it digitally as well as physically. It is based on IMX Blockchain. With the help of our decentralized publishing portal, they are actually giving the people authority.
According to Blockchain Comics, NFTs are the artistic expression of a digital renaissance. They have created the ideal technology to bring comic books and NFTs together.
" We have a hero, built on the blockchain, for the blockchain" – Blockchain Comics.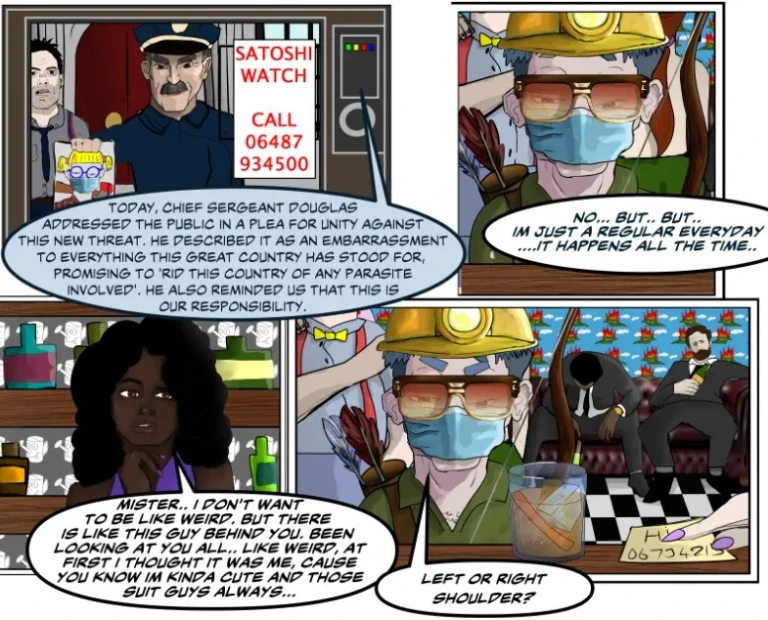 What is Decentralized Publishing? How does it work?
Decentralized publishing, which gives the community the ability to own a distinctive comic series and publish it both digitally and physically, is Blockchain comic's revolution on the IMX blockchain.
The creators also mentioned that SMOD owners will have control over their SMOD's NFT comic legacy. Because, every transaction made with your Satoshi will be transparent.
The Future of Blockchain Comics :
Satoshi – Master of disguise NFT is only the beginning of the Blockchain comics. The creators promised a constantly growing NFT ecosystem of blockchain comics. And also, other well-known faces will soon appear as avatars and join Satoshi. NFTs of the same rarity will interact with each other, thereby strengthening the originality of series. Following the release of SMOD, Blockchain comics will open merchandise stores. Here Satoshi NFT holders will be able to print merchandise with their own Satoshis. 
What is Immutable X or IMX?
Immutable X, a scaling solution for NFTs that intends to make transactions almost instantly and inexpensively possible. It is powered by the Ethereum token known as IMX. IMX can be used to stake on Immutable X. It can also be used to vote on the protocol's future and cover transaction costs.
Also read our articles on-
"NFT Loans : How to Loan Out your NFTs"
Final Thoughts on Satoshi Master of Disguise: Comic NFTs:
Satoshi Man of Disguise (SMOD) has promised to deliver a very unique experience for their NFT Holders. It has done so by combining Comics with NFTs. Decentralized publishing has the potential to change the perspective of NFTs. It has enabled NFT holders to monetize on their own by printing their unique comic series digitally and physically. This concept has ignited excitement in the hearts of Comic book enthusiasts as well as the NFT community. Glimpses of comics available on the official site of Satoshi Man of Disguise look interesting. SMOD NFTs has potential to become the next big thing in the community.
Also read our articles on-
"NFT Airdrops: How to get Free NFT Airdrops"
References-