Cool Cats NFT : What are Cool Cats?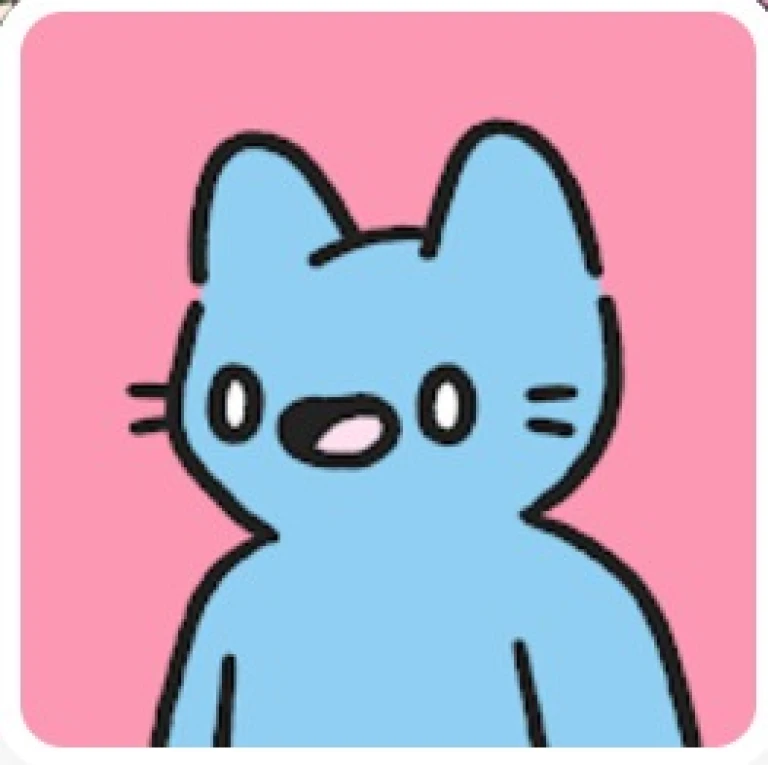 Cool Cats NFTs are one of the most famous brands in the NFT world. The initial release of Cool Cats was in July 2021. The first generation of these NFTs included 9999 created from 300,000 total options. Each one of the Cool Cats NFT consist of a unique face, hat, outfit and body. Additionally, the adorable Cool Cats have a thriving and active community.
What are Cool Cats NFT?
Cool Cats NFTs are a collection of NFTs that were generated randomly through software. They are available on the Ethereum blockchain. The first generation is made up of 9,999 randomly selected Cats out of over 300,000 possible combinations. Cool Cats come in a wide range of outfits, faces, and colors. Each Cool Cat has a distinct body, hat, face, and outfit, so there are countless combinations possible! At the time of the Cool Cats NFT collection's launch in July 2021, Ethereum was trading for about $2,200, and the mint price was just 0.02 ETH, or roughly $44. As of today, Cool Cats has a total volume of 109.6k ETH with a floor price of 5.6 ETH and it is owned by nearly 6 thousand NFT enthusiasts .
What are Cool Cats points?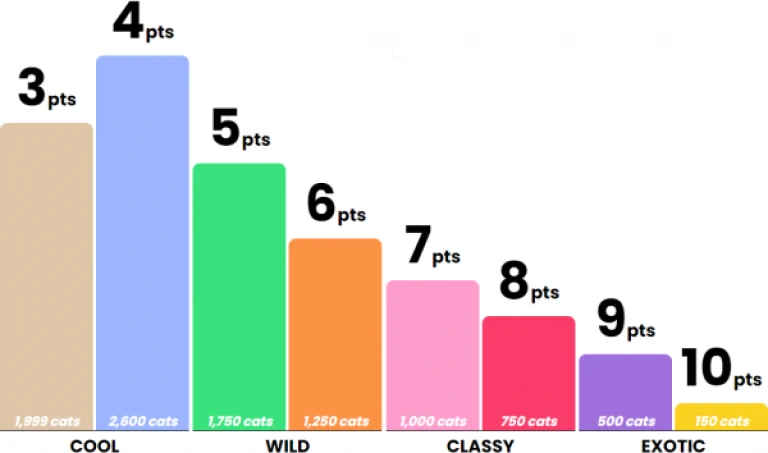 Cool: worth 3-4 points, total 4599 cats.

Wild: worth 5-6 points, total 3000cats.

Classy: worth 7-8 points, total 1750 cats.

Exotic: worth 9-10 points, total 650 cats.
Not all cool cats are of the same value. Some are cooler (rare) than the other. The amount of points a Cool Cat is worth may vary depending on the materials it is made of. For instance, A computer head or an ape suit are more valuable than more common goods like a hat or a beanie. Generally, here are 3 to 10 points assigned to each Cool Cat. The influence of Cool Cat's points may be felt during different competitions and raffles.
How to buy Cool Cats NFT?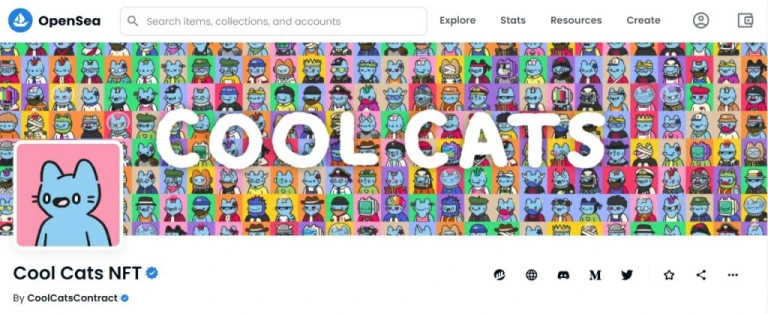 Cool Cats NFTs are now only available for purchase in Opensea. As of today, July 2022, the floor price of Cool Cats is 3.99 ETH, approximately 4576 US dollars.
Who created Cool Cats NFT?
The Cool Cats project was created by a team of 4 art and crypto enthusiasts. Team calls themselves as "nerds who are passionate about crypto, art, and makin' cool stuff,"
Clon

: Colin Egan Also known as

The Catoonist

. The project's key illustrator and creator.

ELU : Evan Luza Project management, along with creative direction and marketing.

Tom : Tom Williamson (

xtremetom

)Technological interfaces and smart contracts.

Lynq : Rob Mehew (

lynqoid

) Development and maintenance of the website.
Each one of the team members has reserved a cool cat for themselves (total 4). The group wants to build "cooltopia," a gamified ecosystem.
As of today, according to their official pages the team consists of 28 people including the core team.
What is Cooltopia?
The play-to-earn game that Cool Cats NFT developed, Cooltopia, is centered around Cool Pets NFTs. In addition to the charming Cool Cats project, Clon has created a companion collection called Pets, which debuted in 2021 and quickly became quite popular with the NFT community.
Owners of Cool Cats and Cool Pets can perform tasks in Cooltopia to earn MILK, the official token for the collection. Cool Cats can generate passive income in MILK by holding their NFT.
Things you can do with your Cool Cats NFT :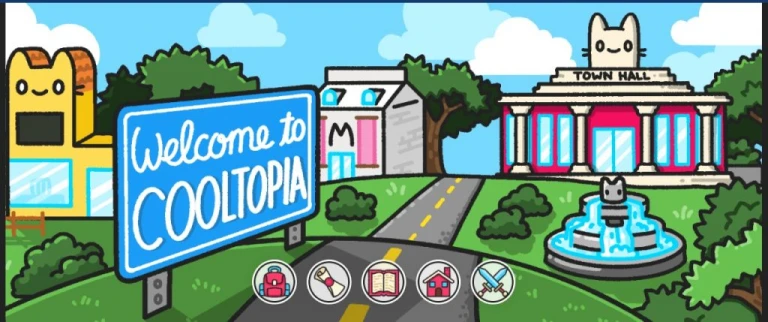 Even if the construction of a gamified ecosystem is under construction, there are some of the activities that you can take part in. Such as,
Coolness contests :

Cool Cats NFTs have a point system. Common items receive less points than rarer ones do. Usually, the point value of each cat can range from 3 to 10. Over time, these points will be increasingly valuable and will have an impact on your raffles and contests.

Contests and Raffles :

The Cool Cats group supports a sense of community. For this reason, they conduct raffles and contests to distribute 20% of the Ethereum (ETH) they have earned to the community.

Voice in the community :

You can have an impact on the future of the platform by owning a Cool Cat. Also, you will have the opportunity to influence the program as it incorporates new features like breeding, a Cool Cats app, and more by providing feedback.
What is the MILK token?
The Cool Cats ecosystem's social token is known as MILK. The currency MILK is required for a variety of activities, such as purchasing pet chests, battle chests, housing chests, undertaking quests, and potential gamification.
If you perform missions with your cats, you'll earn MILK. You can also easily buy $MILK via a coin exchange if you'd like. Your pets can thus develop and grow as a result. These animals can change into other elements including water, fire, grass, and air.
What are Cool Pets?
A NFT series called Cool Pets was created to go along with the PFPs for Cool Cats. Cool Cats appears to be pursuing the same strategy with its Pets as companion sets like the KingFrogs, Thingies, Bored Ape Kennel Club, and others have done for well-known projects to capitalize on demand and grow their collector base.
With the introduction of Cool Pets and the $MILK token in September 2021, the Cool Cats ecosystem (also known as Cooltopia) absolutely erupted. Therefore, these two announcements significantly boosted secondary sales, putting the Cool Cats floor into double digits for the first time.
What is NFT Breeding?
NFT breeding is an exciting concept that includes developing new NFTs from those you already possess. By enabling you to produce your own NFTs, breeding expands your opportunities as an owner.
Other platforms with breedable NFTs are :
Axie Infinity

Foxie Equilibrium

Crypto Kitties

Chicken Derby

Crypto Beasts
Present value of Cool Cats :
The Cool Cats NFT collection was one of the most popular ones in October. Back then, the cost of a single cartoon cat avatar was on average $92,000. Six months later, the newly hired CEO of Cool Cats left after barely three months for unspecified reasons. Even though the NFT collection signed a contract to be represented by one of Hollywood's leading talent agencies, Cool Cats seemed to have lost their momentum unexpectedly. In June, the cost of a single Cool Cats NFT fell to a record-low of barely 2.85 ETH per, or $3,556, levels not seen since August 2021.
Final Thoughts :
Cool Cats NFTs is a promising line supported by significant community involvement. Since they're committed to moving beyond NFTs and into a gamified ecology, the Cool Cats NFT has a promising future.
Also read our article on "NFT Airdrops : How to get free Airdrops"
Thanks for reading! At Niftyzone, we value your craft and wish to share it with the NFT Community!
Follow our Twitter and Telegram for more updates on our Marketplace.
Feel free to contact us for any further inquiries, or have a look at our FAQ page as well!