Abhishek Bhaskar: Indian NFT Artist & Beatboxer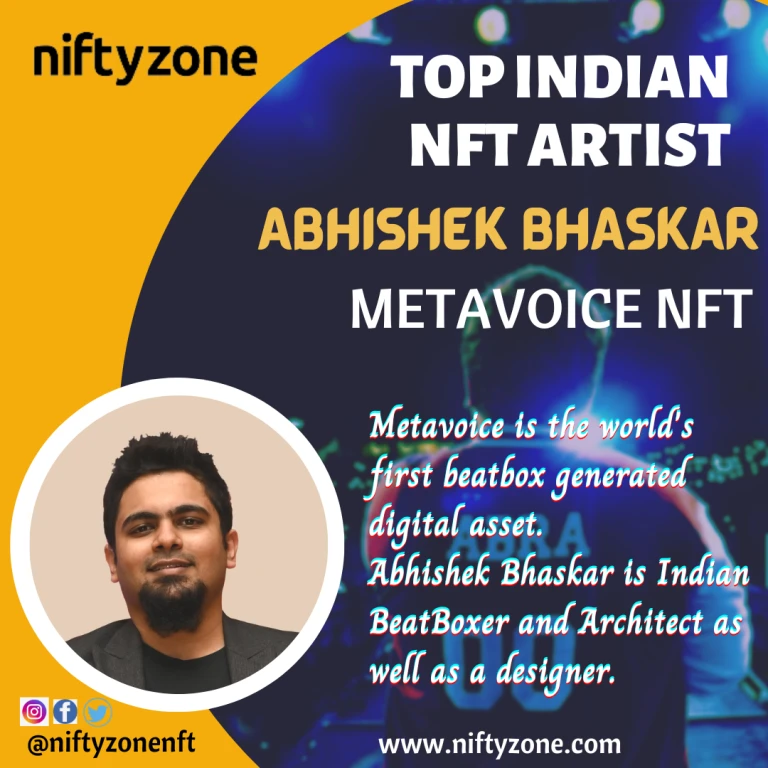 Abhishek Bhaskar: Indian NFT Artist and BeatBoxer
Who is Abhishek Bhaskar / ABVERSE?
Abhishek Bhaskar is a visionary Indian BeatBoxer and Architect as well as a designer. He is known as 'ABVERSE' in the web3 world. (ABVERSE – Abhishek Bhaskar's Metaverse). Abhishek Bhaskar's NFTs are known as Metavoice. He is renowned for his incredible beatboxing skills. Since the age of 15, He has been beatboxing professionally for 12 years now and has achieved many feats in the world of entertainment and music.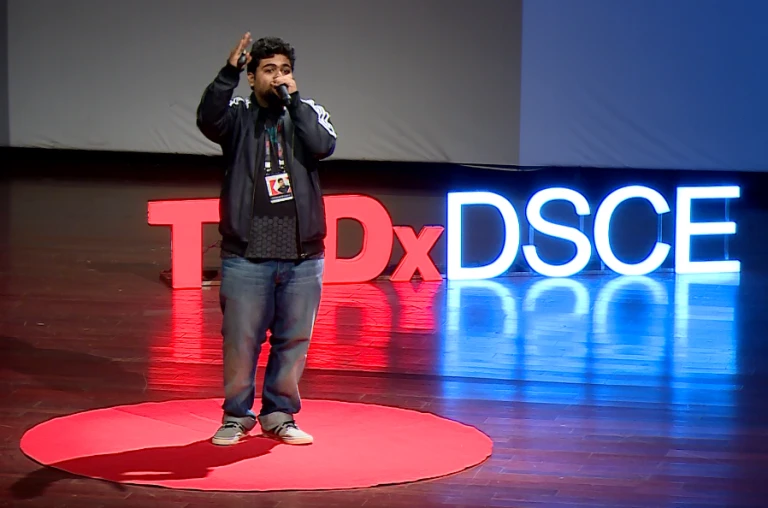 He is the founder of two companies. DERT Lab (Design Education Research Technology) and B for Beatboxing. DERT Lab is focused on architecture, "To better the world, one design at a time". While B for Beatboxing is India's first company to conduct live beatboxing workshops. Abhishek was the brand ambassador for Adidas and JBL.
Achievements:
Abhishek Bhaskar is one of the few artists who has worked for "A project for United Nations" known as "Peace Crane Project" to promote international peace between 12 countries for international peace day. He has founded B for Beatbox and DERT Lab. For his architectural expertise, he has won many awards.
Abhishek Bhaskar NFTs:
"How do I know the beatboxing you do is not fake?" This is how Abhishek started to think about the visual form of music. After a decade now he is one of the best NFT artists in India by representing beatboxing in a visual form.
Abhishek's NFTs are Beatboxing music in a visual form. He has currently listed 3 NFTs in the WazirX marketplace and 4 NFTs on Kalamint. These NFTs are known as Metavoice projects. It is the first of its kind. They are known for representing audio in visual form based on years of research. One of the most expensive of them all was sold for around 3200 USD. Abhishek Bhaskar's biggest NFT collector is Kalli Techniko from the USA.
What is the Metavoice project?
Metavoice is the world's first beatbox generated digital asset. Metavoice was initially started in 2016 as a research paper. But during the pandemic metavoice project actually got into motion. Abhishek got to know about NFTs during the pandemic and decided to combine his research into a digital form. So that people not only read about it ; but also experience it.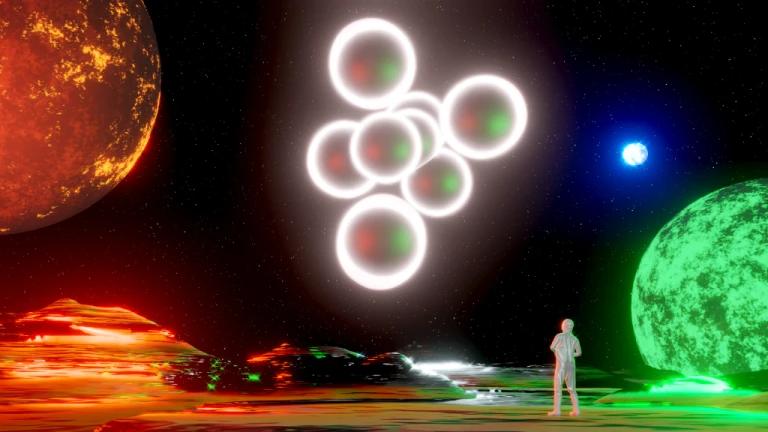 Metavoice [meta-digital; voice-human voice] is digital representation of the sound as well as a visual representation. When we speak we can only hear the sound, but Metavoice NFT enables you to see the sound. It is the representation of technical details such as amplitude, frequency and other different characteristics. Metavoice NFTs are a combination of beatboxing, architecture and research.
His vision is for Metavoice to have a larger social impact. Where it can actively help the people who can't appreciate the music audibly, by enabling them to visually appreciate it.
How do you compose your music?
"It's actually very subconscious. My mind doesn't think about every single sound, it's just a flow. Because I can't do the same beat again. It's like you are talking; you just can't talk the same again. Even if you talk it will never be the same way or same expression won't be there.
My voice is my signature. That's what Metavoice is all about. Because even if my collectors ask me to beatbox the same thing that I did in the NFT, I won't be able to do it. Because, I beat the entire box in one single shot. It's not like individual sound is being programmed by a music producer. It's actually me beatboxing.
So when you actually listen to the NFT, you can hear me breathing. I wanted it to be that way. Because that is the only way people can realize that it's me, not some programmed music production happening in the background."
What is the Common Mis-understanding about NFTs?
"The most common mis-conception about NFTs is that most people think it is very hard, especially the artists. But making art displays in the gallery is far tougher compared to NFTs. Minting the art is as easy as uploading the picture in social media pages."
He also mentioned that to grow in web3 as an artist, there is no easy way. One has to be involved with the community and share information about your NFTs through any social media platform organically. While mentioning the success of the Metavoice project he said, "It is what it is today, because of the community" , stressing out the importance of making a growing community for the NFTs.
Future Plans
:
By next 1-5 years, developing the Metavoice project into more understandable and reachable to everyone. Therefore, not only artists or collectors but also a common man should be able to understand it and appreciate the art. Abhishek aims to make Meta voice project to become the benchmark for Voicebased NFTs. Additionally, he revealed that he is planning a project where everyone who wants to own a piece of the Metavoice project can own it.
Apart from that he wants Metavoice to have a larger impact apart from just NFT. Metavoice have to have a social impact. In the coming couple of years he expects to achieve it.
Also read our article about Tiffany NFTiffs.
Also check out Abhishek's Arts.