Metamask and NFTBank collaborates to Launch NFT Price Tracking System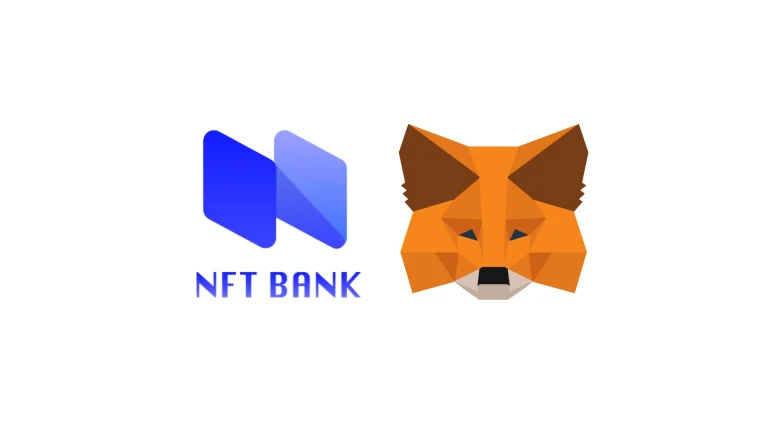 MetaMask, a non-custodial wallet provider, has introduced a new NFT Price Tracking System. NFTBank, an NFT portfolio management tool and valuation engine, will enable this innovation. The partnership between MetaMask and NFTBank has been described as one of the most strategic for the digital collectable industry this year.
What is this MetaMask and NFTBank collaboration about?
Through this collaboration, MetaMask will launch a new NFT portfolio tool that will inform users of the changing market value of their NFTs using the NFTBank valuation algorithm. Further, With the help of this collaboration, consumers will be able to choose superior NFT investments for their portfolios. According to the statement, the algorithm takes into account factors including floor price, scarcity, and bid distribution when generating a pricing value. Also, the algorithm predicts prices with an accuracy rate of 90% or higher.
NFTBank has dedicated resources to reframing the narrative and has designed a powerful machine learning-based algorithm. This ML based algorithm can provide price predictions for up to 5000 collections with a high level of accuracy.
Official Statements by Officials about the new NFT Price Tracking system
"The need for understanding the appropriate price of NFTs has become ever more clear with many learning the dramatic volatility of NFT markets the hard way, and simultaneously learning the potential of NFTs as a new digital asset class,"

"NFTBank's NFT price data will be powering Metamask's new NFT integration, helping users to make informed decisions on their portfolio."

Daniel Kim, CEO NFT Bank.
"MetaMask continues to provide a rich NFT Experience, and enabling pricing information for our users within the portfolio dapp is another step forward; beginning today, our users can get real-time price updates and values about the NFTs they've acquired across all accounts to enable them to make informed decisions.

NFTBank has proven itself as the ideal partner to enable this feature because of its sophisticated machine-learning models and strong infrastructure capabilities that can support MetaMask's scale in order to provide a consistent experience for millions of MetaMask users."

Kai Huang, Product Manager, MetaMask Portfolio dApp
Who is NFTBank?
Developer of a portfolio and analytics platform designed to provide in-depth tools to assist in asset management. The company's platform provides a central management base for scattered NFTs on different platforms, where users can buy, sell, and manage their NFTs more efficiently, enabling NFT holders to overcome the illiquid nature and help users better manage their liquidity risk. Now NFTBank is helping MetaMask to create their NFT Price Tracking System.
Launch of Custodial Tools by MetaMask
A few weeks before the introduction of the portfolio tracker, MetaMask revealed a new wallet feature for its users. Along with Cobo NFT management, it introduced new custodial tools for NFT investment companies.
In a recent interview, MetaMask Institutional said that it is aiming to enhance the amount of information and expertise users may access before utilizing the platform.
In an effort to make it easier for new users to know what to expect in terms of price, MetaMask is making an effort to extend the usability of its NFT support. Moreover, The partnership between the two has been described as one of the most strategic for the digital collectable industry this year. NFTBank is now topping the chart as one of the most popular NFT price monitors.
Follow us on Instagram and Twitter for exciting NFT contents.