Kim Jung Gi dies aged 47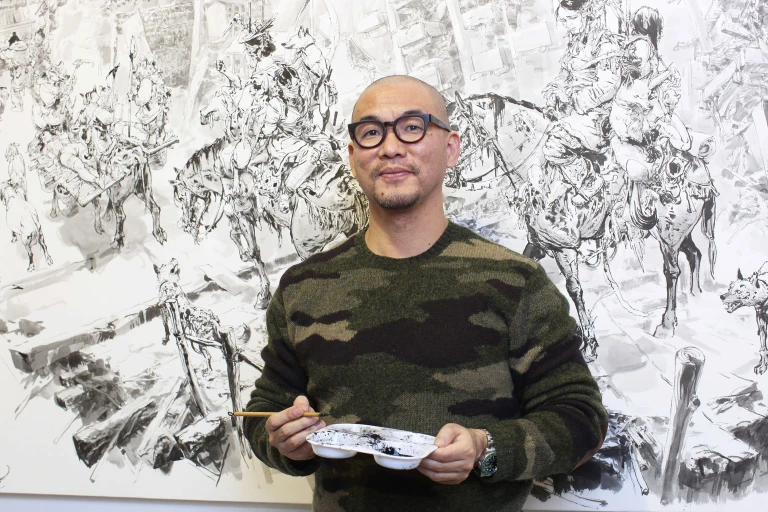 Kim Jung Gi, aged 47, has died in Paris aged 47.
On his way to Paris, he was hit with sharp chest pains on his way to the airport. Although the post on his Instagram page suggested that he was rushed to a hospital for surgery, he sadly passed on shortly after. The Daniel Maghen Art Gallery announced that he had passed from a heart attack.
Who was Kim Jung Gi?
Kim Jung Gi was most well-known for his photographic memory. He was able to draw highly detailed landscapes in front of a live audience, with little to no reference. Kim often toured the world to draw live in front of audiences and had only recently finished one such tour staged at Galerie Daniel Maghen in Paris. The following video is an example of one of his live drawing performances a few years ago.
His drawing prowess was discovered at a young age when he still lived in Busan, South Korea. He told Korea Times 2021 that his love for drawing stemmed from obsessing over things that he wanted, but could not have. He would observe his friends' belongings or items he wanted and would commit as many details as possible to memory. His drawings of such items were his way of owning these items when he could not have the actual thing. This continued until he had to serve his mandatory military service, where he continued to draw military vehicles and weapons.
After finishing his service, he continued to pursue drawing by working as an artist for Korean manhwa (comics) He would then go on to go viral on the internet after a video of his live drawings got uploaded onto the Internet. He would then go on to be invited to draw live, and demand for his expertise continued to skyrocket.
Kim's other works
Aside from live drawing, Kim went on to publish books containing his various sketchbook drawings, totalling around 4500 pages across 12 years of work. His sketchbooks are currently priced at approximately $100 each. He currently holds the Guinness World Record for the longest drawing by an individual in the Fisheye Art category. According to his European fansite, he took approximately 4 days to complete it.
Kim leaves behind his wife, 2 children, his collaborators and his fans. At his family's request, his exhibition at the Maghen gallery in Paris will continue to be on display until Saturday 8/10/2022.
Thanks for reading! At Niftyzone, we value your craft and wish to share it with the NFT Community!
Follow our Twitter and Telegram for more updates on our Marketplace.
Feel free to contact us for any further inquiries, or have a look at our FAQ page as well!