How to Upscale AI Generated Arts for Printing?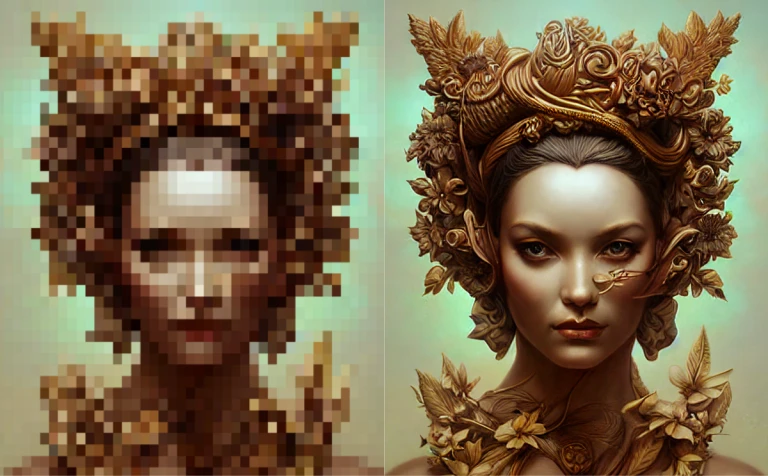 The minimum pixel requirements for the manufacture and printing of particular products must be met if you intend to utilize your Midjourney artwork for making prints and selling merchandise. Although, it is important to Upscale AI Generated Arts.
The standard Midjourney resolutions are 512 x 512 (image variants), 1024 x 1024 (upscale), 1664 x 1664 (upscale to maximum), and 2048 x 2048 (highest resolution) (beta upscale redo).
Most of the time, these basic resolutions are insufficient for producing clothing and other products larger than 5×5 inches.
Fortunately, with a little help from Photoshop, Lightroom, and the amazingly potent AI image upscalers that are readily available online and can help produce high-quality resizes in 4k or more, we can get over these resolution limitations.
How to Upscale AI Generated Arts?
AI upscaling adds additional detail to the image, boosting its quality and printability, in contrast to basic upscaling in Midjourney or other generative art tools, which concentrates on resizing and improving the resolution of the image.
Using AI-driven technologies to upscale photographs has the following advantages:
improved image quality
larger pictures without compromising quality
print pictures bigger than they were originally
the picture seems clearer and more fluid.

We've put together a few quick, current, and simple to follow tutorials and useful websites to assist you get your Midjourney artwork hanging on consumers' walls to aid you in your mercantile journey.
Learn Basic to Advanced Image Upscaling Techniques
Midjourney Tutorial: Maximise & Upscale your Midjourney AI Art by Wade McMaster
Key points:
Detailed explanation of MJ aspect ratios and image resolutions, great for learning to upscale to the highest possible aspect ratios within Midjourney (example: ar 21:9 etc)
"Remaster" often changes the aspect ratio but boosts the quality and size of the newly generated image
Upscaling in Photoshop/Lightroom ("Enhance")
Upscaling in IMGLARGER (AI image upscaler)
Easy Guide to Print and Upscale Midjourney/AI Art by District 7/Drew Geraci
Key Points:
Current data about the largest printable sizes available via AI image upscalers
Upscaling in Photoshop/Lightroom ("Enhance")
Topaz Labs Gigapixel AI
The Best Way to Upscale AI Art for Printing and Apparel by Analog Dreams
Key Points:
Excellent information on image enlargement for the suggested print sizes for on-demand products.
DPI is made clear (72 vs. 300 dpi: does it matter?)
Excellent information on how to use photos in Photoshop AI-to-Print Workflow merch templates.
Details on how to use Topaz Labs' FREE Gigapixel AI AI picture enlargers: BigJPG, Waifu2x (iOS and Android)
Smooth final Photoshop adjustment
Upscale Your MidJourney & Stable Diffusion Image Dimensions Overnight by Scott Detweiler
Key Points:
Key Ideas
Free and open-source tea maker software (ChaiNNer on GitHub)
ChaiNNer's sophisticated and thorough image upscaling
Talk about Affinity Photo 2 (Photoshop alternative)
Follow us on Instagram: @artzone.ai