Getty Images Launches it's own AI Generator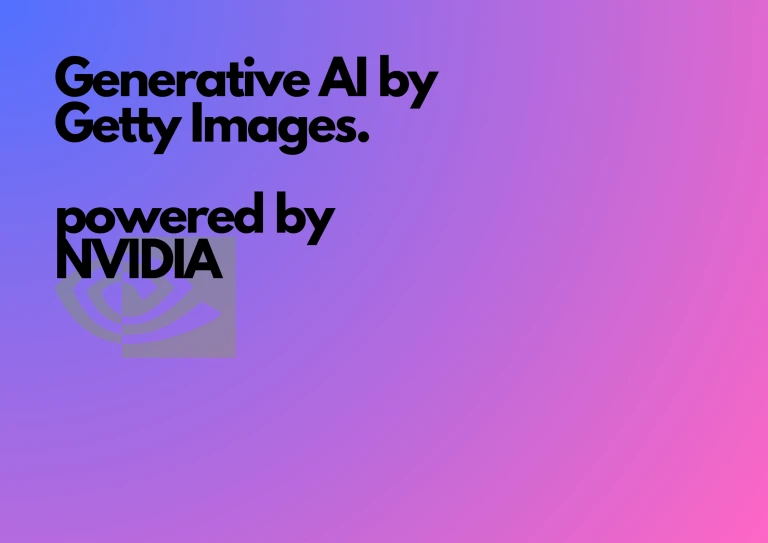 Getty Images is a well-known American stock photo agency and media company. It specializes in the distribution and licensing of a wide variety of visual content, including photographs, illustrations, videos, and music. They have joined hands with Nvidia, to introduce an innovative tool called "Generative AI by Getty Images". This is an AI generator by Getty. This tool empowers users to create images using Getty's extensive library of licensed photos while ensuring full copyright indemnification.
Generative AI by Getty Images, despite its unwieldy name, is set to revolutionize the way people access and utilize stock imagery." This tool, unlike other AI generators, exclusively trained on Getty's vast image repository, which includes premium content. This unique feature grants users the assurance of legal protection when publishing images created through this tool for commercial purposes. This has a significant advantage for businesses and creatives alike.
Powered by NVIDIA
Getty Images collaborated with Nvidia and leveraged its Edify model. This model is available in Nvidia's generative AI model library Picasso, to develop this innovative tool.
Craig Peters, Getty Images' CEO, announced the launch of Generative AI by Getty Images at this year's Code conference, which was held on September 26th and 27th. This partnership with Nvidia represents a significant step forward in the world of AI-driven content creation.
According to Verge, they got the opportunity to get a hands-on look at Generative AI by Getty Images and explore its capabilities. The primary focus was on how it generates photos, and the initial results were impressive.
Stock photos often carry a somewhat artificial and soulless quality, but Getty's AI managed to produce remarkably realistic and human-like images, particularly when it came to rendering human figures, said Verge
However, it's worth noting that the tool's illustration mode primarily provided 2D, clip-art-style renderings rather than the realistic imagery generated in photo mode.
Commercially safe Generative AI
Getty Images has made it clear that it will not integrate any images created using this tool into the Getty Images and iStock content libraries. Instead, Getty will compensate creators if their AI-generated images are used to train current and future versions of the model.
"We've listened to customers about the swift growth of generative AI — and have heard both excitement and hesitation — and tried to be intentional around how we developed our own tool," said Grant Farhall, Chief Product Officer at Getty Images.
While Generative AI by Getty Images is a powerful tool, it comes with certain limitations. They restrict users from generating images featuring specific individuals or mimicking iconic artistic styles. For example, generating an image of a nation's President. Or a model in the style of artists like Yayoi Kusama is not allowed. Getty's intention is to avoid manipulating or recreating real-life events. We will carry it out by ensuring that the model remains unaware of the identities of real-world personalities.
Pricing
Access to Generative AI by Getty Images is available through the Getty Images website, with pricing based on prompt volume. Although exact pricing details are not disclosed at the moment, users can contact their sales team for a demo to get access and get their pricing details from there. Nevertheless, the copyright status of AI-generated images remains a complex legal issue.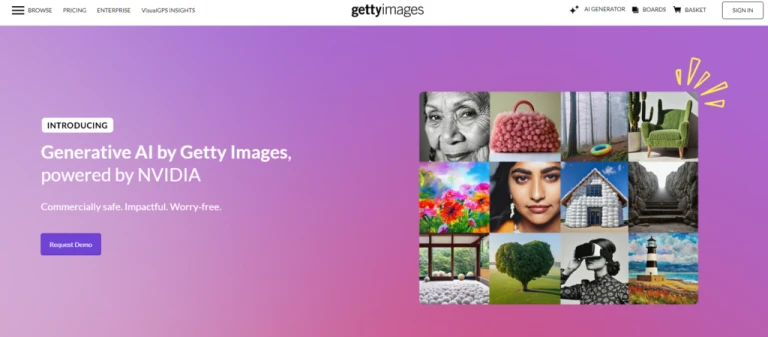 Getty Images has ventured into the AI image generation arena to protect its vast image libraries from unauthorized use by other companies to train their AI models. This move follows Getty's lawsuit against Stability AI for alleged copyright infringement related to the use of Getty photos in its image generator, Stable Diffusion.
Other companies, like Adobe, have also entered the AI image generation landscape by releasing models trained on their licensed image collections.
One of the key concerns in the creative community has been the use of copyrighted material to train AI models. Getty Images aims to address this concern by allowing customers to eventually incorporate their own data into the model, enabling them to generate images with their unique brand style. The company plans to make this exciting feature, along with other services, available later this year.
Generative AI by Getty Images marks a significant milestone in AI-driven content creation. This is done by offering a new dimension to visual content generation while safeguarding IP rights in the digital era.
Follow us on Instagram, Facebook, and Twitter!
Read on How to create AI spiral village?