PSSYPPL Translates Anger Into Captivating Messages
Above PSSYPPL: Jokester (Copyright © PSSYPPL, 2021)
For many individuals turbulent periods of their lives are marked with a sense of despondency or helplessness, not so for artist PSSYPPL whose day-to-day is informed by what's happening in his country. Instead, he tells this author about the frustration and anger he experiences in its place.
PSSYPPL describes in detail how he begins his work, a process that is continuously informed by his emotions that seek cathartic release. "I usually draw what I feel. When sadness hits, I visualise those negative feelings into symbols and colour as therapy. Once the artwork is finished those feelings transfer from my mind to the painting. Same goes for anger." Those emotions feed into dramatic and complex compositions that deal with powerful if at times grim images.
His illustrations rarely shy away from depicting the blood of innocents nor miss out on the chance to use the colour red to weave a tapestry of danger, urgency, and anger. It's this anger that PSSYPPL tells us he feels compelled to transform into something else. For him, that metamorphosis manifests as often cynical subject matter that brings out the ugliness in the government. "But," PSSYPPL says, somewhat retracting on this statement, "Looking back to a bigger picture, it's not just the government but the whole system that are corrupt to the core."
Although it's the state of the society he lives in that is a point of exasperation PSSYPPL finds the subtleties of the image a far more useful occupation. "I don't want to shout at the audiences that I am angry." He clarifies, "I want them to reflect themselves through my artwork in their own way." But that participation of the audience also makes his process far more difficult, PSSYPPL is fully aware of the sensitivity of the topics he broaches.
Carefully, he researches the background of his subject matter to avoid misinterpretation and not to offend the very people he is trying to reach. It's his way of pulling the positive from a maelstrom of thoughts that can sometimes be very destructive indeed. "Sometimes my anger is lost in the process, and once I start drawing there is only calm and focus on how to make my audience curious and reflective. This way I can re-mold the feelings that I have at the beginning of the process. Not as a weapon, but as a tool to communicate with audiences."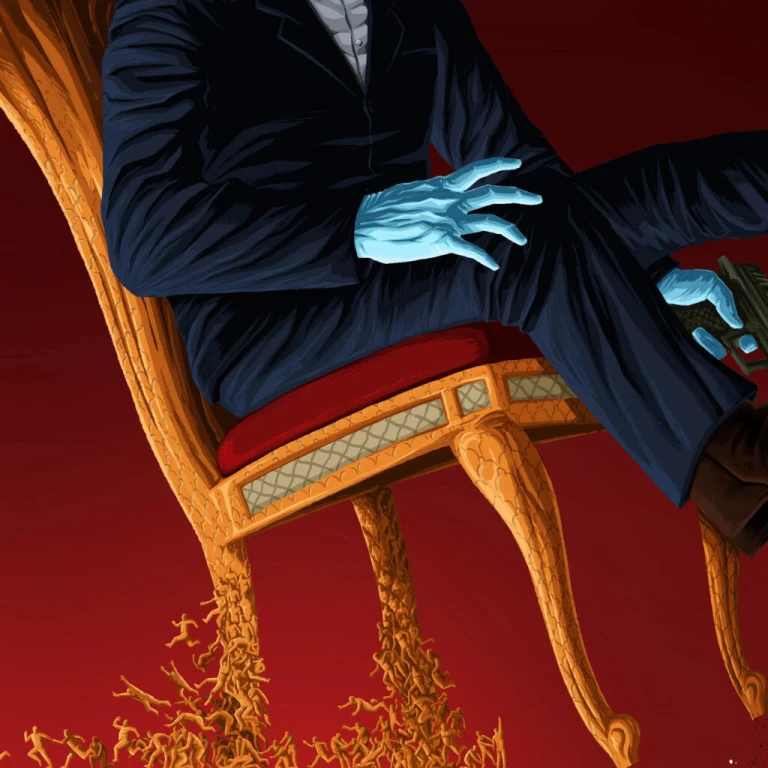 Above PSSYPPL: The Fall (Copyright © PSSYPPL, 2021)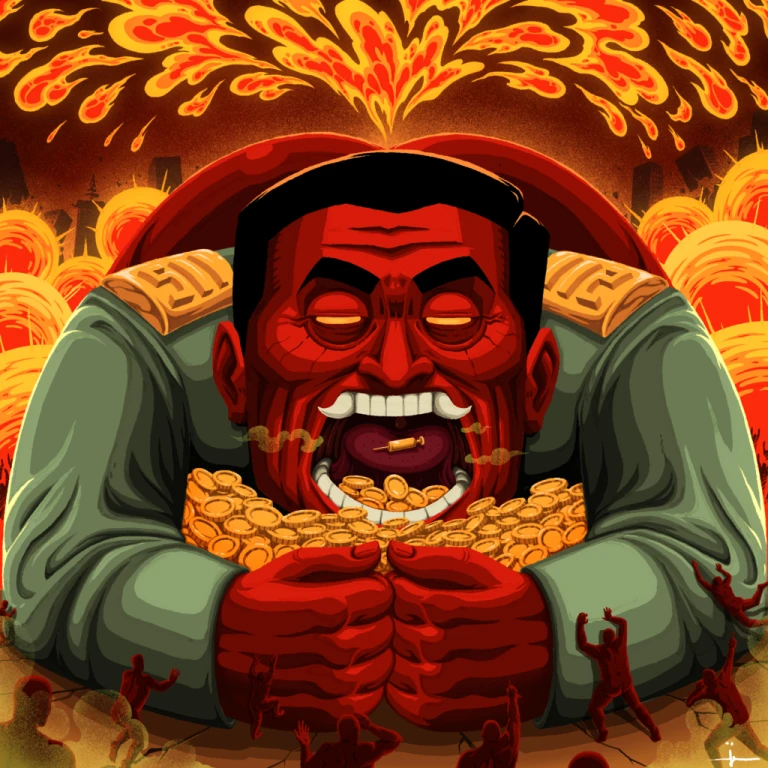 Above PSSYPPL: Guarding Duty (Copyright © PSSYPPL, 2021)